ARMY RIFLE ASSOCIATION TARGET PISTOL NEWS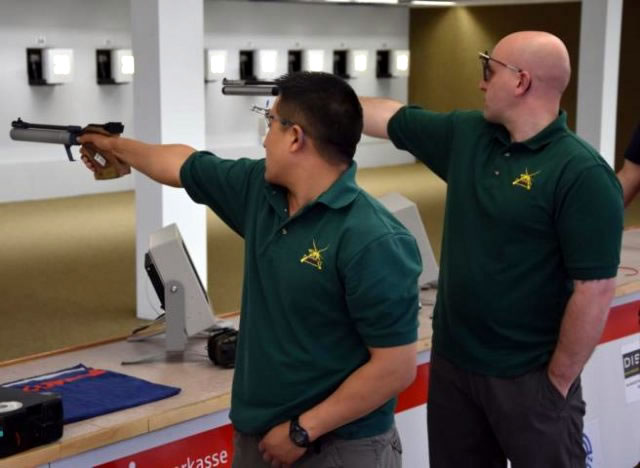 INTERNATIONAL SHOOTING COMPETITION HANOVER (ISCH) 2016
TROOPS TO TARGET SELECTION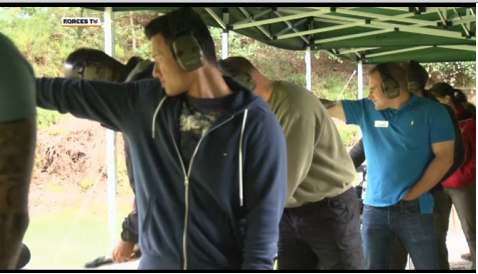 The Army Rifles Association was formed in the late 1800's to improve the marksmanship skills of the British Army. They are still running today and can be found at Bisley.

Natasha Reneaux caught up with Squadron Leader Albie Fox, who is the Officer Commanding, Army Marksmanship Training Centre at Bisley to find out what they do…

The Army Rifle Association have hosted a number of guests at Ash Ranges to show off the Troops to Target initiative.
Natasha Reneaux caught up with Staff Sergeant Rebecca Carnell of 1 Regiment RMP who is one of those being developed as part of the scheme and hoping to compete in Tokyo 2020…
TROOPS TO TARGET SELECTION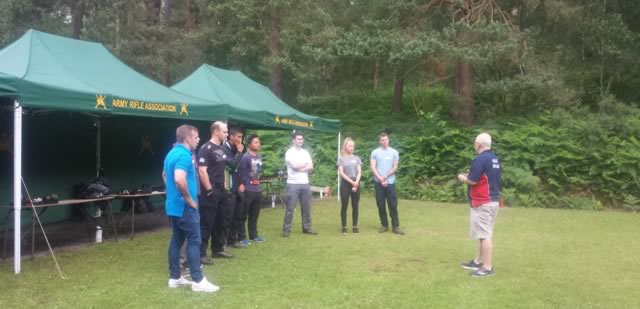 Another morning on the ranges at Ash Vale and another group of hopefulls arrive to try their chances at becoming the next in line for the Troops To Target (T2T) program. T2T is an initiative looking to find find military personnel with the attributes to become an Olympic hopeful with the help of Team GB and work towards such competitions as the Commonwealth Games Gold Coast Australia 2018 or the Olympic Games Tokyo Japan 2020.
Attending a Target Pistol is the first step in selection towards Team GB and a pre - requisite before selection. Course applications can be found under Target Pistol Course information. Please feel free to get in touch with the ARA Ch clk for further information 94211 8085 or 01483 79 8085.
Through a chance opportunity to shoot for my Battalion (3 Royal Anglian) at the Army Reserve Pistol Championships, I found myself fortunate enough to be placed on a full time programme ran by the Army Marksmanship Training Centre (AMTC) called Troops 2 Target (T2T). The programme involves shooting both service and non-service pattern weapons on a daily basis, guided by both the top military and Team GB coaches. The aim of the T2T programme is to feed Team GB with personnel who through the military can practice full time, with firearms not usually available to the general public. I joined the programme early January 2016, by the end of march I had competed at various civilian and military competitions around the UK achieving a gold in my class at the North Wales Championships, Silver at the Army Target Shooting Championships and Top Pistol Shot at the R. Ang. BATOSC. By the end of April, I had my first experience at an international shooting competition in Hannover. I thank the AMTC for the training opportunities and experiences it has afforded me as a reservist and llok forward to passing what i have learnt to other soldiers back at my battalion.
Pte Stanley - 3 Royal Anglian.
Troops to Target (T2T) has recently returned from the International Shooting Competition Hanover (ISCH),  9-15 May 2016.  This high profile event sees 1696 competitors from 22 countries competing in multiple disciplines against each other. The team competed in 10m Air Pistol, 25m Rapid Fire Pistol (RFP) and 25m Standard Pistol, each discipline bringing its own difficulties to the table. Given the level of competition the team performed admirably but of note was Sgt Ian Jacks performance finishing 12th for RFP and 8th for 25m Standard Pistol.
IWK WALTHER ARENA - BERLIN 2016
Troops to Target (T2T) bolstered by the Army Target Pistol Team which now has 4 Queens Medal winners (the highest accolade that can be achieved for service rifle/service pistol shooting) had the opportunity to compete at the IWK International Shooting Competition Berlin 13 Apr-17 Apr 16.  For a few of the team this was there first international competition but despite the added pressure they were able to achieve personal bests at 10m Air pistol and .22 Rapid Fire Pistol.  Sgt Ian Jack also achieved a score that has now seen him listed as number 2 on the Team GB rankings list for RFP.  They look forward to there next competition in Germany for the International Shooting Competition Hanover (ISCH).
ATSC Open Target Pistol Championships 2016
On the 8 - 10 Apr 16 the Army Target Shooting Club (ATSC) held the Annual Army Target Shooting Club  Open Target Pistol Championships 2016.  Events fired for target pistol included, 10m Air pistol, Standard Air, Sport Pistol, Rapid Fire Pistol pistol and 50m Free Pistol. New for this year however we have added .22 calibre events as per the International Sport Shooting Federation (ISSF) guidelines and the events were held to their standards, as such the event was classed as a Team GB qualifying event. Those interested in entering next year can find details in the Fixtures list or contact Sgt Ian Jack 01483 79 8086 (MIL 94211 8086).
4th Jozef Zapedzki Grand Prix Wroclaw Poland
The Army Marksmanship Training Center (AMTC) had the pleasure of sending Sgt Ian Jack from the Army Team, Troops 2 Target (T2T) initiative, to compete in the 4th Jozef Zapedzki Rapid Fire Pistol Grand Prix in Wroclaw, Poland 27 Mar - 6 Apr 16. This was his first time representing Team GB since 2011. Sgt Jack was competing specifically in Rapid Fire Pistol, a discipline that Team GB are keen to find firers to compete at the next Olympics in Tokyo 2020. Sgt Jack was pleased to achieve his 2nd highest score (556 out of 600) at a major international competition against Olympic athletes and World Champions.
INTERSHOOT "THE HAGUE" NETHERLANDS 2016
The Target Pistol Team attended Intershoot, a 10m Air Rifle and Air pistol competition which takes place in the Hague, Netherlands annually over a 3 day period.  This year there were 268 competitors form 46 countries and competition was fierce.  Competitors included Wu Felipe from Brazil who has just won a quota place for the 2016 Olympics in Brazil for 10m Air Pistol. Over the 3 days the team performed as well as could be expected against such strong competition gathered from around the world from as far as Mexico, Brazil and Canada.  This competition is typically used as a "warm up event" for some countries prior to the Olympics.  Even with this strong competition Sgt Ian Jack still managed to secure a bronze medal in the team event shooting along side his fellow members of the England Small-bore Shooting Union (ESSU). The team now look forward to there next competition the following weekend which is the British Airgun Championships 2016.

OC CONTACT DETAILS
Sqn Ldr(Retd) A M Fox (Albie)
OC Army Marksmanship Training Centre 
Hythe Lodge, Elcho Road
National Shooting Centre
Bisley, Woking, Surrey GU24 0NY
Phone: 01483 79 8921
Mil: 94211 8081